The Z-Series™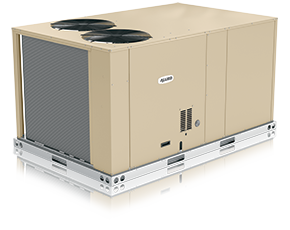 Up to 14.0 SEER, 13.2 IEER and 11.7 EER
3- to 12.5-ton gas/electric and electric/electric models and 3- to 10-ton heat pump models available
Industry standard design and footprint

Find compatible Allied Commercial™ units for any job with the Allied Crossover Replacement Tool.
Find Crossover Units Now
Why the Z-Series stands out
Efficiency ratings up to 14.0 SEER, 13.2 IEER and 11.7 EER
Matches the most popular footprint in the commercial industry, eliminating the need for an adapter curb in many replacement jobs
Single-Zone VAV (Variable Air Volume) supply fan technology available with 7.5- to 12.5-ton models**

Up to 61% power savings over comparable units
29% better moisture removal for humidity control when compared to systems with conventional supply fan motors

Optional BACnet compatibility on 7.5- to 12.5-ton models
Eco-Last™ Coil System uses up to 52% less refrigerant, is up to 59% lighter, and has up to 20% fewer brazed joints than regular rooftop unit coils (standard on ZC and ZG models)
18% lighter than other like units***
Goes through a 200-point quality check
High-pressure switch guards the compressor from extreme operating conditions
Proven scroll compressor helps long-term operation
Tool-less access to filters allows for easy service
Common utility connection points allow for faster and easier installations
10-year limited warranty on aluminized gas heat exchanger
5-year limited warranty on compressor
3-year limited warranty on Eco-Last Coil System
1-year limited warranty on covered components
*$1,500 savings is calculated in replacement jobs where the Z-Series unit matches the footprint using a price of $750 for a curb and $750 to move electrical and plumbing connections.
**Part load, IEER improvement at 67% airflow when compared to full load
***Comparison is based on 5-ton gas/electric model versus other 5-ton gas/electric models.